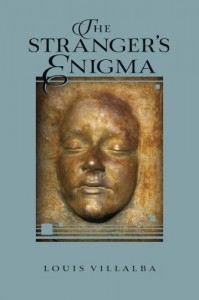 My new  book "The Stranger's Enigma," has been published.
When does a dream become a reality? Find out in Louis Villalba's haunting new novel, "The Stranger's Enigma"
Victim of tedious home life and relentless job stress, Dr. Daniel Brandon finds his nightly dreams his only escape. He records his lucid visions and gets to know the liberated sexual stranger at the center of it all, someone who resembles him physically and seems to hold the secret of eternal youth and joy. Brandon sets out to unveil the stranger's enigma and begins to pick up on clues in his dreams:
"The secret might be in the pillow that he embraces while he spins along a long hall, or amid algae in the water where he plunges into, or inside the envelope a mailman delivers to me in a recurrent dream."
As Brandon's project and marital relationship falter, a malpractice suit pushes him on the brink of suicide. He meets a woman in a dream, falls madly in love with her, and feels revitalized by the new romance. When his goal appears within reach and the ardent desire to be with his beloved together within his dream world forever grows irresistible, he attempts an experiment that will permanently change his life.
The book is available on:
My websites:
Amazon.com
Amazon.co.uk,
Amazon.de
Amazon.fr
Amazon.it
Amazon.es.
Createspace e store
Bookstores
Online retailer
Createspace Direct
A brief summary in Spanish follows:
 Dr. Daniel Brandon se propone identificar el protagonista de sus sueños y descubrir el enigma de su eterna juventud y felicidad. Su búsqueda lo lleva a través del laberinto surrealista del mundo de los sueños en donde tropieza con el verdadero amor y descubre el secreto mejor guardado por la humanidad, que ha permanecido oculto una generación tras otra.
 La novela trascurre en un mundo real bajo las reglas caprichosas del mundo de los sueños y envuelve a los lectores en una aventura romántica llena de fantasías. Como si se tratara de un manual para conectar entre estos dos mundos, los elementos de interpretación de los sueños aparecen a lo largo de la narración, dando vida a la persona que vive en nuestros propios sueos y enseñándonos lo que podemos aprender de este personaje.
 Por primera vez en una novela, he podido combinar mi pasión por la literatura de ficción con mis treinta y tantos años de experiencia como profesor de neurología.
 Visite mi blog: www.theclassicwriter.com 
El libro se puede comprar en los siguientes sitios:
My websites:
Amazon.com
Amazon.co.uk,
Amazon.de
Amazon.fr
Amazon.it
Amazon.es.
Createspace e store
Bookstores
Online retailer
Createspace Direct